Home / Solutions / Pre-Engineered Building(PEB)
Pre-Engineered Building(PEB)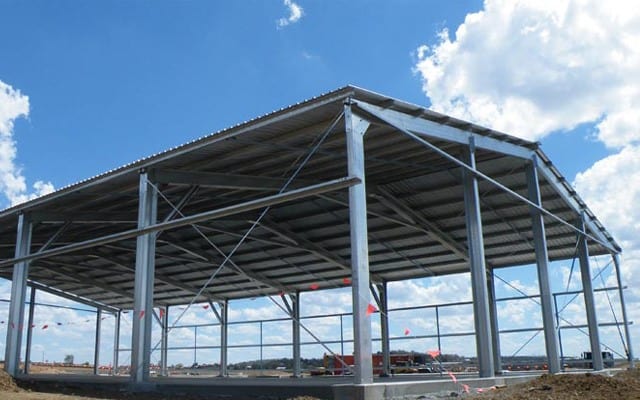 Innovation to the power of growth
The advent of smart technologies has revolutionized the way manufacturing industry operates in the new age. New age manufacturing technologies gave genesis to Pre Engineered Buildings (PEBs) in other words Prefab Buildings thereby achieving cost effective turnkey solutions within a set time frame tailored to industry specific requirement and so, changed the perspective of the construction and infrastructure industry. MES was quick to adapt to the global industrial demand for steel construction solutions and has since, made rapid inroads into Pre Engineered Building Systems and Structural Steel sector.
What makes MES Pre Engineered Buildings (PEB) a cut above the rest is our highly skilled and experienced team of technologists who relentlessly endeavor to translate smart engineering to smart buildings. Pre Engineered Buildings that can be customized and tailor-made to meet your specific needs. Having carved a niche as an innovator in offering complete turnkey steel construction solutions, MES is revolutionizing the PEB and Pre Engineered Steel Structures ecosystem.
An adept team at MES, ensures that the manufacturing ecosystem comprises an admixture of engineering technology and design aesthetics; to ensure feasible Prefab Building solutions that encompass designing, detailing, manufacturing, on-site erection and maintenance to after sales service, all under one roof.
The unwavering focus on application of smart technologies, has enabled MES to decode the matrix of complex challenges and provide durable, cost-effective and technologically superior Pre Engineered Building solutions. MES team also takes pride in the use of the top-of-the-line manufacturing equipments at a fully integrated, state-of-the-art production facility.
ARCHITECTURAL VERSATILITY:
Buildings can be supplied with various types of fascias, canopies, curved eaves and are designed to receive precast concrete wall panels, curtain walls, block walls and other wall systems.
ENERGY EFFICIENT ROOFING AND WALL SYSTEMS:
Buildings can be supplied with polyurethane insulated panels or fiberglass blankets insulation.
FLEXIBILTY OF EXPANSION:
Buildings can be easily expanded in length by adding additional bays. Also expansion in width and height is possible by designing at the onset.
LARGE CLEAR SPANS:
Buildings can be supplied with 80 meters plus clear span.
LOWER COST:
Due to a systems approach, there is a significant saving in design, manufacturing and on site erection cost. MES delivers a bespoke solution, unique and optimized for a specific requirement, location and industry.
LOW MAINTENANCE :
Buildings are supplied with high quality paint systems for cladding and steel to suit ambient conditions at the site, which results in long durability and low maintenance costs.
QUALITY CONTROL:
As buildings are manufactured completely in the factory under controlled conditions the quality is assured.
Stringent quality control ensures project delivery is on time and the product processes are accurate.
The QC team at MES is highly qualified with certifications in the field of welding, painting and NDT (Non Destructive Testing).
MES, with its full-fledged testing facility fulfills all the necessary quality norms and standards by precisely examining the raw materials as well as finished products.
REDUCED CONSTRUCTION TIME:
Buildings are typically delivered in just a few weeks after approval of drawings. Parallel processing ensures that site preparation, manufacturing, delivery and construction are packaged in a manner to crunch the project timeline. Studies have shown that the use of PEB reduces total construction time substantially. This leads to a faster realization of assets and revenue.
SINGLE SOURCE RESPONSIBILTY:
As the complete building package is supplied by a single vendor, compatibility of all the building components and accessories is assured. This is one of the major benefits of MES PEB.